These Days, it's hard to fathom three guys talking about the impact Ron Artest's desire to be the NBA's biggest badass will have on the NBA playoffs... for an hour.
Nevertheless, we three did it. The marathon segment. An hour-long, uninterrupted ménage à trois of NBA talk with Tj Carpenter, Nathan Rowe, and Eric Olson... you'll have to listen to find out who was the tweener....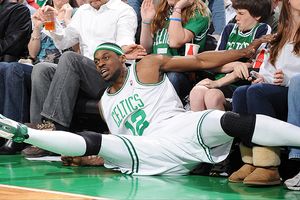 Believe it or not, Billy Walker wasn't even in the game when this photo was taken.