by jlo on Jul.13, 2012.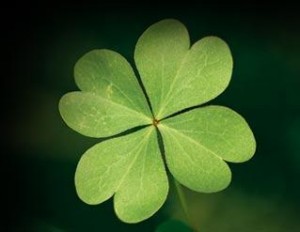 Podcast: Ensueño – Lucky Friday 7/13
Hello folks, DJ Jaye Loew is super happy because he successfully defended his master's thesis today, officially becoming Master & Commander, Master & Margarita, Master DJ Jaye Loew. Not too shabby for a traditionally unlucky day like Friday the 13th. Plus, today is the THIRD Friday the 13th of 2012 (and you know THAT's a guarantee the world will indeed end soon), so we will celebrate with another dose of the best music from all Hispanoamérica dealing with good luck, bad luck, or just plain luck.
When a day has both the numbers 7 and 13, you know something epic is up. So count and listen to your lucky stars at 8 p.m. today, exclusively on KXUA. This really is going to be an epic show, here is the playlist for today:
Bonus pre show song: María Barracuda & Café Tacvba – Chale! (mexico)
01 Shakira – Suerte (remix) (colombia)
02 Legión – Maldita mi suerte (guatemala)
03 Calle 13 & La Mala Rodríguez – Mala suerte con el 13 (puerto rico/spain)
04 Jason Mraz & Ximena Sariñana –  Suerte (Lucky) (us/mexico)
05 Enrique Bunbury – El día de mi suerte (spain)
06 Vanessa da Mata & Ben Harper – Boa sorte (brasil/us)
07 Panda – Mala suerte (mexico)
08 Arbol.- Suerte (paraguay)
09 Andrés Calamaro – Buena suerte y hasta luego (argentina)
10 Alejandra Guzmán – Día de suerte (mexico)
11 Javiera y Los Imposibles – La suerte (chile)
12 Jesse & Joy – La de la mala suerte (mexico)
13 Maldita Vecindad – El mala suerte (mexico)
14 Andy Andy- Mala suerte en el amor (dominicana)
15 Ayllus Perú – La mala suerte que eres cadsada (peru)
16 Bonanza – Kencha suerte (bolivia)
17 Buitres – Buena suerte (uruguay)
18 Juaninacka – Canción de la suerte (spain)
19 Polache – La suerte (honduras)
20 Luis "Papo" Márquez – Te deseo suerte (venezuela/cuba)
21 Coti – La suerte (argentina)
22 Coiffeur – Qué mala suerte (argentina)
23 El Canto del Loco – La suerte de mi vida (spain)
24 Laura Camacho – Suerte y destino (bolivia)